SECTION 1
The Early Years - Preparation 1974-1977

SECTION 2
The Missing Years 1978-1983

SECTION 3
Skill development 1984

SECTION 3
First commercial projects 1987

SECTION 4
Industrial strength programming in C language. Local Area Network programming.
1986


SECTION 5
Mainframe communications and 3270 emulation 1990

SECTION 6
Wide Area Networking 1996

SECTION 7
Web programming 1998

SECTION 8
NT Applications and Windows programming 1999

SECTION 9
LINUX and Java Programming
The history of computing at Zhiq Research began when zhiq was an undergraduate at the University of Malaya from 1974 till 1977. As a student, he took up FORTRAN programming with great earnest, above his main studies in physics. In his third year, he took up a unit in numerical analysis.

In the Missing Years, zhiq was active in Research & Development in Electronics projects.

In 1984, zhiq established the Computer Club in a premier school in Seremban. With a Sanyo MBC 550 PC, he restored his skills in programming, using BASIC, PASCAL, COBOL. Dbase II was the database language at the time.

Among the first commercial projects were some sales systems written in dBase II for unions. Then followed by an authoring system for Tuition Centers written in compiled BASIC for the Sanyo MBC 550.

1986 began with the first commercial project written in C. It was a communications software for pumping news items through modem lines from a major news agency to its subscribers. Subscribers reach out to Singapore and South East Asia.

1989 began with the first database system written in C language. It was a stock inventory system. The project was so successful, it was the main revenue earner for many years. The ability of the database software to communicate with cash register and non-standard printer devices was its strength.

Other projects include a disassembler for the 650x microprocessors and various text processing software.

The 1990s began with Zhiq Research developing C-language drivers to communicate between IBM mainframes and PCs as well as with ICL mainframes.

In 1996, Zhiq Research commisioned the first Wide Area Networking software with the introduction of an integrated PCPOS, HQ, Warehouse System with built-in dial-up facilities.

WWW programming began in 1998

Zhiq Research started work on Windows programming in 1999 with the development of a Company Secretarial System and NT Service Multitier Server

JAVA applet programming started to appear in Discovery Science Center in year 2000.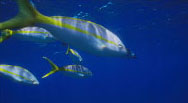 Alma mater
University of Malaya